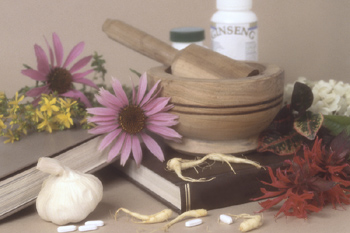 Also for an overload of environmental toxins and more
A fresh plant/dry plant extract of Echinacea angustifolia, E. purpurea (pictured above), and E. pallida, including a flower remedy of Echinacea.
What are the some of the possible indications that show I might need Imu-Stim 1?
Here are come common ways that Imu-Stim may be helpful.
Helps the body increase resistance in subacute and chronic immune conditions
Can stimulate the body's repair of damaged tissue
Increase the body's resistsance to tissue destruction by environmental toxins and toxic metabolites
Can be useful with prostatic congestion
Serves as a specific homeopathic antidote to negative effects of DPT innoculation
Tablets only: The tablets provide the body even more specific benefits to the bowel. In some cases, it helps disinfect the ileocecal valve. It also provides a higher level of immune stimulating polysaccharides than does the liquid.
We recommend you contact your health practitioner for best results. Knowing just how much your own individual body needs is the fastest and easiest way to get relief and help your body repair.
General Guidelines
Tablets: 2-3 tablets per meal.
Liquid only: Adults: 5-25 drops in 1/4 glass of water, 3 to 6 times daily. The best effects are generally achieved by smaller doses more frequently. (For example, 10 drops 6 times daily.)
Infants: 3 to 5 drops in 20 drops of water injected by dropper into the mouth.
*To all our visitors: Thank you for coming to explore our web site, www.chooseCRA.com. We truly appreciate your presence here. You and your health are a vital concern to us. We sincerely hope the information we share, the services we offer and the products we sell help you to manifest your dreams as a spiritual being and that it helps contribute to your physical health, well-being and prosperity.
Please be aware none of the these statements have been evaluated by the Food and Drug Administration (FDA). These products and this information are NOT intended to diagnose, treat, cure, or prevent any disease. It is simply the 1st Amendment in action and is presented for information and research purposes only. We are sharing information we believe in and feel it is not commonly found in mainstream media. We'd also like to remind you, if you act on ideas found here, you do so at your own discretion and risk. Self-help requires intelligence, common sense, and the ability to take responsibility for your own actions. By receiving this information, you agree to hold yourself FULLY responsible for your own health and well being and to hold harmless Alternative Choices Healing Center, its owners, assigns or heirs from any lawsuits and litigations for any reason.
We do not recommend using any ideas found here without first consulting a medical professional or a qualified health care provider with recognized degrees and appropriate licenses.
ęCopyright 2000-2014. All rights reserved. Alternative Choices Healing Center (http://www.choosecra.com) and its owner Dr. Xianti Hoo, Ph.D., call 1-928-639-4574. Web design and writing by Marika Ray. Graphics and some photos are from Art Today, visit www.clipart.com.