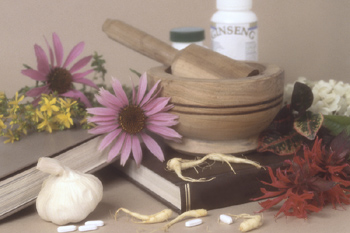 What's in Male Herbal?
Extract of fresh Saw Palmetto berries, fresh whole plant Echinacea species, and fresh seed kernels of organically grown apricots.
What are the some of the possible indications that show I might need Male Herbal?
Herbal support for a non-tumorous enlargement of the prostate organ or tissue is as a result of an increase in the size rather than the number of constituent cells (also known as Benign Prostate Hypertrophy or Hyperplasia).
What is Benign Prostatic Hyperplasia?
Abbreviated BPH, this is a non-cancerous prostate problem. The normal elements of the prostate gland grow in size and number when this condition is present. Their enlargement may compress the urethra, which is located in the center of the prostate, impeding the flow of urine from the bladder through the urethra to the outside. This may lead to urine retention or the need for frequent urination.
If BPH is severe, complete blockage of the urethra can occur. BPH generally begins in a man's 30's. It may, however, evolve slowly, causing symptoms only after age 50.
BPH is very common. Half of men over age 50 develop symptoms of PBH, but only 10% need some kind of intervention. Watchful waiting with annual medical monitoring is appropriate for most men with BPH. Taking Male Herbal can be a good preventative as well as a remedy to aid in recovery should BPH occur.
What is the suggested dosage?
We recommend you contact your health practitioner for best results. Knowing just how much your own individual body needs is the fastest and easiest way to get relief and help your body repair.
General Guidelines: 10-20 drops in 1/4 glass of water, 3 times daily.
*To all our visitors: Thank you for coming to explore our web site, www.chooseCRA.com. We truly appreciate your presence here. You and your health are a vital concern to us. We sincerely hope the information we share, the services we offer and the products we sell help you to manifest your dreams as a spiritual being and that it helps contribute to your physical health, well-being and prosperity.
Please be aware none of the these statements have been evaluated by the Food and Drug Administration (FDA). These products and this information are NOT intended to diagnose, treat, cure, or prevent any disease. It is simply the 1st Amendment in action and is presented for information and research purposes only. We are sharing information we believe in and feel it is not commonly found in mainstream media. We'd also like to remind you, if you act on ideas found here, you do so at your own discretion and risk. Self-help requires intelligence, common sense, and the ability to take responsibility for your own actions. By receiving this information, you agree to hold yourself FULLY responsible for your own health and well being and to hold harmless Alternative Choices Healing Center, its owners, assigns or heirs from any lawsuits and litigations for any reason.
We do not recommend using any ideas found here without first consulting a medical professional or a qualified health care provider with recognized degrees and appropriate licenses.
©Copyright 2000-2014. All rights reserved. Alternative Choices Healing Center (http://www.choosecra.com) and its owner Dr. Xianti Hoo, Ph.D., call 1-928-639-4574. Web design and writing by Marika Ray. Graphics and some photos are from Art Today, visit www.clipart.com.