Now you can get reliable help without using drugs or risking side effects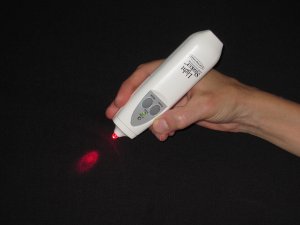 If you're someone who likes to steer clear of the use of prescriptions or pharmaceuticals, you'll love the Light Shaker. Whether you have an allergy to drugs or just want to keep your body in optimal health using natural methods, this small portable unit will be a great addition to your "First Aid" kit. These light-emitting diodes let your body use this energy to repair itself.
Our most portable and smallest unit can be taken anywhere in your purse, pocket, backpack or in your travel bag.
Contains a single LED with both a "solid" or "continuous" setting for pain relief and a "pulse" (266 cycle) setting to accelerate recovery from damaged tissue.
It is powered by an economical 9-volt battery, which can last for 20 hours (approximately 4-6 months of use).
The design is ideal for use on acupuncture points yet it is still powerful enough to be used on the skin surface and for effective penetration of 1 to 2 inches beneath the skin.
Use it on wounds, bruises, cuts or scrapes for faster healing.
Effective on pain from injuries, headache, tension, muscle spasms and more for quicker pain relief.
Keep it handy in your home or at work.
Safe enough for children to use.
Cannot be over-used.
Instruction booklet included.
Only 3 to 5 minutes a day can help with glaucoma or other eye problems
For eye issues you can safely use the Light Shaker. Use the "solid" setting for glaucoma. Use the pulse setting for ALL other eye problems, including macular degeneration (wet or dry) and cataracts or for vision improvement.
Apply the light on your eyes to accelerate their return to normal. Your eyes may be open or closed for 3-5 minutes per session. Try using it at least four times per day. Consistency is important, and the multiple sessions per day also beneficial. Do both eyes at each session, even if only one eye is having the problem. This creates balance.
*To all our visitors: Thank you for coming to explore our web site, www.chooseCRA.com. We truly appreciate your presence here. You and your health are a vital concern to us. We sincerely hope the information we share, the services we offer and the products we sell help you to manifest your dreams as a spiritual being and that it helps contribute to your physical health, well-being and prosperity.
Please be aware none of the these statements have been evaluated by the Food and Drug Administration (FDA). These products and this information are NOT intended to diagnose, treat, cure, or prevent any disease. It is simply the 1st Amendment in action and is presented for information and research purposes only. We are sharing information we believe in and feel it is not commonly found in mainstream media. We'd also like to remind you, if you act on ideas found here, you do so at your own discretion and risk. Self-help requires intelligence, common sense, and the ability to take responsibility for your own actions. By receiving this information, you agree to hold yourself FULLY responsible for your own health and well being and to hold harmless Alternative Choices Healing Center, its owners, assigns or heirs from any lawsuits and litigations for any reason.
We do not recommend using any ideas found here without first consulting a medical professional or a qualified health care provider with recognized degrees and appropriate licenses.
ęCopyright 2000-2014. All rights reserved. Alternative Choices Healing Center (http://www.choosecra.com) and its owner Dr. Xianti Hoo, Ph.D., call 1-928-639-4574. Web design and writing by Marika Ray. Graphics and some photos are from Art Today, visit www.clipart.com.
The Light Shaker
(TEMPORARILY UNAVAILABLE)
ON SALE- SAVE $21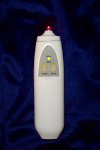 4 in. x 1 in. unit
Retail Price: $160.00
SALE Price: $139.00
(TEMPORARILY UNAVAILABLE)