When you want faster more effective relief from pain or injury, get a Tri-Light
If you want to get three times more coverage area and faster pain relief than the smaller Light Shaker can offer, choose the Tri-Light. These light-emitting diodes let your body use this energy to repair itself.
It has the "solid" setting and two "pulse" settings (266 and 17028 cycles).
The unit comes with an economical 9-volt battery so you can take it anywhere.
Plus it includes an AC/DC electrical power adapter, which operates on both 110 and 220 volt electrical systems so you can conserve your batteries.
It's easy to determine what setting your on with separate indicator lights for each mode of operations.
What's more, it has a low-battery light so you'll know exactly when to replace the 9-volt battery.
*To all our visitors: Thank you for coming to explore our web site, www.chooseCRA.com. We truly appreciate your presence here. You and your health are a vital concern to us. We sincerely hope the information we share, the services we offer and the products we sell help you to manifest your dreams as a spiritual being and that it helps contribute to your physical health, well-being and prosperity.
Please be aware none of the these statements have been evaluated by the Food and Drug Administration (FDA). These products and this information are NOT intended to diagnose, treat, cure, or prevent any disease. It is simply the 1st Amendment in action and is presented for information and research purposes only. We are sharing information we believe in and feel it is not commonly found in mainstream media. We'd also like to remind you, if you act on ideas found here, you do so at your own discretion and risk. Self-help requires intelligence, common sense, and the ability to take responsibility for your own actions. By receiving this information, you agree to hold yourself FULLY responsible for your own health and well being and to hold harmless Alternative Choices Healing Center, its owners, assigns or heirs from any lawsuits and litigations for any reason.
We do not recommend using any ideas found here without first consulting a medical professional or a qualified health care provider with recognized degrees and appropriate licenses.
ęCopyright 2000-2014. All rights reserved. Alternative Choices Healing Center (http://www.choosecra.com) and its owner Dr. Xianti Hoo, Ph.D., call 1-928-639-4574. Web design and writing by Marika Ray. Graphics and some photos are from Art Today, visit www.clipart.com.
Tri-Light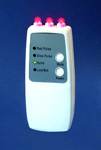 3 inch x 7 inch Unit
Price: $284.00
(TEMPORARILY UNAVAILABLE)