If you'd like a powerful all-natural remedy to help your body, try LDM-100!
This one small bottle can supply you and your family's body to increase its immune defense systems. It supports your body so it can recover quicker.
Easy to take, add to water or juice
Discover the power of plant-based herbs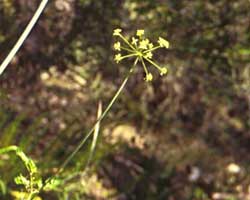 Today, wildcrafted lomatium is a part of many herbal formulas.
Cultivation: Not well understood at present. In the wild Lomatium dissectum grown on rocky slopes, frequently facing south, in semi-arid areas. Probably requires a warm period followed by a cold season and then another warm period.
Common name: Desert parsley
Parts used and where grown: The root of lomatium is used. The plant is native to and continues to grow in western North America, however is now listed as endangered. information on this site is for education only, and not intended as medical advice. If you have any serious medical concerns please see your doctor or health care provider. Any reviews are the experiences and opinions of the people who wrote them. They have not been evaluated by the FDA, and are not intended to be used as medical to prevent, treat, diagnosis or cure any disease. Not to be used during pregnancy.
.
>








Other Common Names: Carrotleaf Biscuitroot, Chocolate-tips, Cough Root, Fernleaf Biscuitroot, Fernleaf Lomatium, Lepotaenia, Leptotaenia, Lomatium dissectum
Range: Western N. America- southwards from Alberta and British Columbia.
The pulverized root has been burnt as an incense.
Lomatium dissectum, Lomatium dissectum var. dissectum, Lomatium dissectum var. multifidum, Lomatium dissectum var. eatonii, Lomatium dissectum var. occidentalis, Leptoeania dissecta, Leptataenia multifida, Leptotaenia purpurea, Leptotaenia eatonii, Leptotaenia foliosa desert Parsnip, Indian Parsnip, Leptotaenia dissecta, Tohza, Toza, Wild Carrot.
Location: Alberta, British Columbia, California, Colorado, Idaho, Montana, Nevada, Oregon, Utah, Washington, Wyoming
Synonyms: Biscuit Root, Desert Parsley, Desert Parsnip, Fern-Leafed Lomatium, Ferula dissoluta, Indian Desert Parsnip, Indian Parsnip, Leptotaenia dissecta, Tohza, Toza, Wild Carrot
NOTE: Product manufactured by Barlow Herbal.
Why choose Lomatium Dissectum?
Lomatium Dissectum works with the body As you can see, the pure root extract of Lomatium Dissectum is multi-faceted support for the body and can be a good choice and addition to your first aid supplies.
LDM-100* can be taken undiluted or diluted in a small amount of water or juice. (Juice is nice for small children or taste sensitive adults.)
LDM-100* is our most popular formula. Now available for the first time in 2 oz., 4 oz., 8 oz. and 16 oz. bottles
*This product has not been evaluated by the FDA. It is not meant to diagnose, treat, cure or prevent any disease.
.
The formulas of Dr. Max Barlow have been around for 35 years and lovingly carried on by his children since his passing.
"MunityBoost"
Munity Boost is a special combination of Lomatium Dissectum, Dandelion root, Red root, Black Walnut hulls, Sarsaparilla, Blue Vervain and St. John's Wort appears to be a start in the right direction to prevent rashes.
Each herb was chosen for it's ability to work hand in hand with the other herbs and their medicinal properties to prevent the allergic Lomatium rash.
.
Munity Boost
no longer available from this site
You can order online at the top of this page. Or if you prefer to order by phone, fax or e-mail, you can print an order form with all the products and prices we offer by clicking on the links below.
Order LDM-100 online no longer available from this site

*To all our visitors: Thank you for coming to explore our web site, www.chooseCRA.com. We truly appreciate your presence here. You and your health are a vital concern to us. We sincerely hope the information we share, the services we offer and the products we sell help you to manifest your dreams as a spiritual being and that it helps contribute to your physical health, well-being and prosperity.
Please be aware none of the these statements have been evaluated by the Food and Drug Administration (FDA). These products and this information are NOT intended to diagnose, treat, cure, or prevent any disease. It is simply the 1st Amendment in action and is presented for information and research purposes only. We are sharing information we believe in and feel it is not commonly found in mainstream media. We'd also like to remind you, if you act on ideas found here, you do so at your own discretion and risk. Self-help requires intelligence, common sense, and the ability to take responsibility for your own actions. By receiving this information, you agree to hold yourself FULLY responsible for your own health and well being and to hold harmless Alternative Choices Healing Center, its owners, assigns or heirs from any lawsuits and litigations for any reason.
We do not recommend using any ideas found here without first consulting a medical professional or a qualified health care provider with recognized degrees and appropriate licenses.
ęCopyright 2000-2014. All rights reserved. Alternative Choices Healing Center (http://www.choosecra.com) and its owner Dr. Xianti Hoo, Ph.D., call 1-928-639-4574. Web design and writing by Marika Ray. Graphics and some photos are from Art Today, visit www.clipart.com.