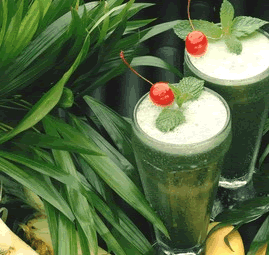 Discover one of the only delicious healthy shakes...now in Strawberry-Kiwi flavor!
We've all heard we should each have five different fruit and vegetables servings a day. The National Cancer Institute recommends it. Your doctor has probably encouraged you to eat better.
You have, no doubt, read about it in magazines and heard about it on health programs. Now you can uncover a way to do it andget good taste too.
Why should I try Deeper Greens?
With so much on our plates every day, like work, family, emotional stress, juggling the balance of relationships, trying to find time for fun and relaxation, it is sometimes hard to find time to do what's best for your own health.
Knowing that, I have been looking for and found a product that can help you do that easily and quickly.
Deeper Greens is:
The equivalent of 5 servings of fruits and vegetables
A great-tasting Strawberry-Kiwi flavor
Simple to prepare as single serving shake
Easy to take it anywhere -- just mix with water or juice
Not required to be refrigerated -- comes in a convenient powder
Ph balanced
High in fiber
Gluten-free and contains no eggs, dairy, peanuts, yeast or artificial colors or flavors
Loaded with anti-oxidants to prevent free-radical damage
In fact, it has a high, improved antioxidant ratio of Oxygen Radical Absorbance Capacity (ORAC) value of 6900! This is a unit value assigned by researchers to measure the antioxidant value of a given food.
Is Deeper Greens really a good buy?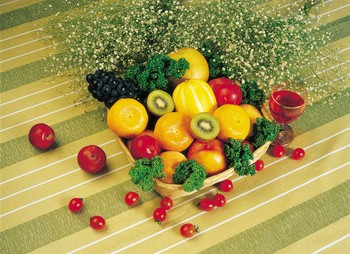 Deeper Greens, which is made by Orthomolecular Products, makes sure you get the most for your money. Here are examples of what you get.
A tasty blend of juices, berries and vegetable greens
A convenient powder shake that mixes with water or your favorite beverage
A portable meal or snack that can go anywhere
NO shopping for lots of food -- that's all been done for you
NO need to buy special costly juicers -- that might just take up room on your shelves or counter
NO need for planning how to work in lots of fruits and vegetables into your eating
That saves you a lot of money. Plus, just remember Deeper Greens:
gives you a simple fiber-rich diet without a hassle
provides you with a good source of vitamins A and C
supplies one of the highest amount of antioxidants you can get from one source
Taking all that into consideration, you can see that it's a very good buy. Where else could you get so much for so little? The average cost of a serving is under $2.
Why should I care about a high antioxidant level?
We all know of or have heard of friends or family members who when they hit their fifties begin to have all kinds of aches and pains and problems they just never had before. Part of this may be due to free radical damage over the years.
Deeper Greens has a high ORAC (Oxygen Radical Absorbance Capacity) of 6900!
Antioxidants, as you may know, scavenge your body for free radicals. Any increase in antioxidants in the blood can provide a significant boost to the body and raw fruits and vegetables have proven to be better than supplements with individual anti-oxidant vitamins.
Can I see the label and Deeper Green's contents?
Deeper Greens is an extraordinary combination of ingredients that help your body to experience a more optimum level of health. Here is the information from the label.
Ortho Molecular's Deeper Greens is an "organic" food, using organically grown vegetables and fruits meeting the strict new USDA criteria for organic food claims.
The simple reason organic is better lies in the plant's natural survival instincts in the absence of herbicides, pesticides and chemical fertilizers used on crops.
By relying on its own natural defenses when grown in rich nutrient dense soil, organic plants consistently measure dramatically higher in total nutrition, especially when compared with conventionally grown produce.
In other words, if a plant can survive on the natural nutrition of the soil (without relying on pesticides and chemical fertilizers to manipulate its strength), it will be able to give you more nutrients to keep your body healthy.
*To all our visitors: Thank you for coming to explore our web site, www.chooseCRA.com. We truly appreciate your presence here. You and your health are a vital concern to us. We sincerely hope the information we share, the services we offer and the products we sell help you to manifest your dreams as a spiritual being and that it helps contribute to your physical health, well-being and prosperity.
Please be aware none of the these statements have been evaluated by the Food and Drug Administration (FDA). These products and this information are NOT intended to diagnose, treat, cure, or prevent any disease. It is simply the 1st Amendment in action and is presented for information and research purposes only. We are sharing information we believe in and feel it is not commonly found in mainstream media. We'd also like to remind you, if you act on ideas found here, you do so at your own discretion and risk. Self-help requires intelligence, common sense, and the ability to take responsibility for your own actions. By receiving this information, you agree to hold yourself FULLY responsible for your own health and well being and to hold harmless Alternative Choices Healing Center, its owners, assigns or heirs from any lawsuits and litigations for any reason.
We do not recommend using any ideas found here without first consulting a medical professional or a qualified health care provider with recognized degrees and appropriate licenses.
ęCopyright 2000-2014. All rights reserved. Alternative Choices Healing Center (http://www.choosecra.com) and its owner Dr. Xianti Hoo, Ph.D., call 1-928-639-4574. Web design and writing by Marika Ray. Graphics and some photos are from Art Today, visit www.clipart.com.