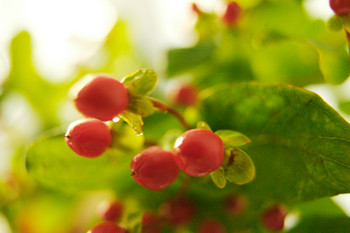 Goji Berries - The Himalayan Health Secret to a longer healthier life
If you have not yet heard of goji berries, you are not alone. While they have occupied an important place in traditional Asian medicine for countless generations, the secrets of their nutritional benefits have remained a mystery to most of the rest of the world.
Through the ages, legends abound about these miraculous goji berries. Even today there are still festivals held to celebrate their goodness. they are considered sacred.
Why are goji berries considered sacred?
During the Tang Dynasty (around 800 AD), a well had been dug beside a wall near a famous Buddhist temple in China that was covered with goji vines. Over the years, countless goji berries had fallen into the well.
Those who drank water and prayed there:
Had the robust complexion of good health
Even at the age of eighty they had no white hair
Retained all their teeth
Over the years, the people came to respect and honor this water that gave them a long life. From this legend, a poem was crafted that gave it goji berries their sacred significance.

Why are goji berries so popular now?

It is said that the Himalayans were the first natural healers, and that they shared their wisdom with the ancient herbalists of China, Tibet, and India.

One of their most prized secrets was the fruit of the native goji berry vine, which had been flourishing in the Himalayan valleys since the beginning of time.

Those who came there to learn took goji berries home with them and planted them in their own valleys, thus spreading the legend of this most marvelous and healthful fruit.

Since its discovery in the Himalayas, those who know of these remarkable goji berries are awed by their unmatched health-promoting powers. They have one of the highest antioxidant levels of all the foods in the world.

How can goji berries help you?

Goji berries contain nutrients that helps your body:
Strengthen the immune system
Increase energy
Reduce fatigue
Lessen the harmful effects of free radicals in the body
Engender a sense of well-being and optimism - often known as the "happy berry"
May help curb the appetite and over-eating
Encourage elevated moods
Support better sleeping habits
May even increase libido
What makes Goji berries so nutrient-dense?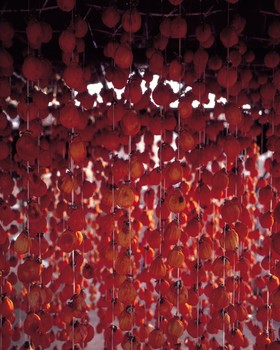 Goji berries have been studied and looked at in-depth in many scientific journals including: Journal of Chinese Herbal Medicine, Journal of Ethnopharmacology, China Pharmacology and Toxicology,and Physiology Academic Journal.
Here is a synopsis of their nutritional content:
Vitamin C - 500 times more per ounce than oranges
Caratenoids - richest source of all known foods or plants
Vitamin B complex and Vitamin E
18 amino acids, including all 8 essential amino acids - a complete protein
21 trace minerals, including zinc, iron (11 mg./100 gr.), copper, calcium, selenium, germanium sesquioxide, phosphorus
Anti-bacterials & anti-fungals: Sesquiterpenoids: cyperone and solavetivone
Anti-inflammatory agent: beta-sitosterol
How do the goji berries' antioxidant or ORAC rating compare to other foods?
We all know of or have heard of friends or family members who when they hit their fifties begin to have all kinds of aches and pains and problems they just never had before.
Part of this may be due to free radical damage over the years. Goji berries have one of the highest known ORAC (Oxygen Radical Absorbance Capacity) ratings. This is a unit value assigned by researchers to measure the antioxidant value of a given food.
Antioxidants, as you may know, scavenge your body for free radicals, which can slow down the aging and degeneration processes in your body.
Any increase in antioxidants in the blood can provide a significant boost to the body and raw fruits and vegetables have proven to be better than supplements with individual anti-oxidant vitamins.
That's one of the reasons Goji berries have been so revered in Asian countries for centuries. They are truly one of the best foods to help you improve or maintain your health.
Here is a list of common foods and their ORAC values compared to Goji berries:
| | |
| --- | --- |
| Food | ORAC Value |
| Eggplant | 390 |
| Corn | 400 |
| Onion | 450 |
| Grepefruit | 483 |
| Kiwi Fruit | 602 |
| Cherries | 670 |
| Red Bell Pepper | 710 |
| Red Grapes | 739 |
| Oranges | 750 |
| Beets | 840 |
| Broccoli | 890 |
| Alfalfa Sprouts | 930 |
| Plums | 949 |
| Brussel Sprouts | 980 |
| Raspberries | 1220 |
| Spinach | 1260 |
| Strawberries | 1540 |
| Spinach | 1770 |
| Blackberries | 2036 |
| Blueberries | 2400 |
| Raisins | 2830 |
| Prunes | 5770 |
| Goji Berries | 25,300 |
SUGGESTIONS
Try them as a snack
Add them to your trail mix
Put them in salads
Stir them in your smoothies
Put them in your granola
Blend them into your favorite juice.
How do I know if I'm getting quality Goji berries?
As a nutritionist, I am concerned about getting only the best products for myself and my clients. I have found the Plum Flower« Brand has a impressive "certificate of authentication". Their Goji berries are sulphur free, chlorine free and aluminum phosphate free.These are high-quality berries imported from a well-respected Chinese herbal company, called Mayway.
Do goji berries have any quality assurance?
Since many foods from China have come under scrutiny in the last few years. Let us assure you Mayway has been importing and distributing traditional Chinese medicine for over thirty years. Their commitment to the issues of quality, and providing high quality products, have become the top priorities at Mayway.
They recognize that through controlling the quality of their products they are able to promote better health, in the consumers of their products, in the businesses of their customers, and in their industry as a whole. You will find their products under their label name: Plum Flower« Brand Unsulfured Herbs.
What are the Shelf Life and Freshness of goji berries?
Plum Flower« Brand Herbs have a shelf life of 24-36 months. In contrast, commercial sulfured herbs can look unchanged 5 to 6 years or longer after purchase, making it difficult to tell how fresh they truly are. The sulfur also acts as bleach, covering bruises and other signs of decay.
Without preservatives, their Plum Flower« Brand unsulfured herbs naturally reveal their freshness and quality. From the fields to your home, they make every effort to provide the cleanest, safest, freshest and highest quality Chinese herbs available today.
*To all our visitors: Thank you for coming to explore our web site, www.chooseCRA.com. We truly appreciate your presence here. You and your health are a vital concern to us. We sincerely hope the information we share, the services we offer and the products we sell help you to manifest your dreams as a spiritual being and that it helps contribute to your physical health, well-being and prosperity.
Please be aware none of the these statements have been evaluated by the Food and Drug Administration (FDA). These products and this information are NOT intended to diagnose, treat, cure, or prevent any disease. It is simply the 1st Amendment in action and is presented for information and research purposes only. We are sharing information we believe in and feel it is not commonly found in mainstream media. We'd also like to remind you, if you act on ideas found here, you do so at your own discretion and risk. Self-help requires intelligence, common sense, and the ability to take responsibility for your own actions. By receiving this information, you agree to hold yourself FULLY responsible for your own health and well being and to hold harmless Alternative Choices Healing Center, its owners, assigns or heirs from any lawsuits and litigations for any reason.
We do not recommend using any ideas found here without first consulting a medical professional or a qualified health care provider with recognized degrees and appropriate licenses.
ęCopyright 2000-2014. All rights reserved. Alternative Choices Healing Center (http://www.choosecra.com) and its owner Dr. Xianti Hoo, Ph.D., call 1-928-639-4574. Web design and writing by Marika Ray. Graphics and some photos are from Art Today, visit www.clipart.com.