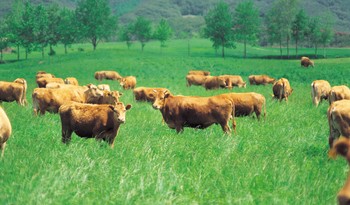 Treat your family to the best-tasting meats...raised with respect for the land and the animals
If you've always dreamed of giving your family highly nutritious, extremely delicious, farm-raised meats, you'll love all the products Grassland Beef from U.S. Wellness. Choose from beef, pork, chicken, lamb, bison and more.
New York Times food writer
"It has taken me three years to find a piece of grass-fed beef that is tender, juicy, meaty and available online... the steaks from Grassland Beef are satisfyingly delicious." [11-26-2003]
Marian Burros
What's the advantage of eating grass-fed meat?
Omega 6:3 ratio is comparable to fish WITHOUT the mercury!
High CLA levels due to pasture diet -- which shows positive results for combating cancer and clogged arteries, reducing body fat and helping in Diabetes treatment
NO Animal by-products means immunity to issues from animal by-product feeding, such as BSE
NO Hormones
NO Irradiation
NO Antibiotics fed
NO growth implants
NO pesticides or herbicides are used on the pastures where their cattle graze
NO preservatives or additives are in ANY products
Prepared for shipping in their processor's clean, safe, USDA-inspected facility
Olympic Medalist & American Record Holder in Running
"For four years I have been eating grass-fed beef from U.S. Wellness Meats. Our freezer is stocked with different cuts so we can eat healthfully at a moment's notice. Summer is a great time of year to get out and run an extra mile or two and it is no coincidence it is also a great time to grill your favorite cut of wholesome grass-fed beef."
Are cattle and other animals raised under healthy, humane and earth-friendly conditions ?
Absolutely! There are several families of producers around Monticello, Missouri. Together they are Grassland Beef. They all use the U.S. Wellness Meats' production protocol to ensure that the quality of the product you receive is consistent time after time.
Here is what you can count on. Our animals' health and your health are protected in the following ways:
No hormones are added to our cattle, pork, dairy, lamb, and poultry. This is a practice often used in traditional beef production to speed up growth and weight gain. Faster gain equals shorter time from birth to finishing. This means more money for the producer. The WON'T do this! They will NOT sacrifice your health for money.
Feed grade antibiotics are NEVER used. In big commercial feedlots low-level antibiotics are routinely administered to help manage highly concentrated, grain diets in commercial feedlots. Grass diets at Grassland Beef eliminate this concern and risk.
NONE of U.S. Wellness meats are irradiated so you get wholesome, healthy food.
NO animal by-products are used in ANY of the U.S. Wellness animal growing programs. Rest assured on this issue!
NO feed grains fed to the cattle, dairy, or lamb. Grassland Beef cattle free range on a pasture salad bar containing a mix of cool season grasses, Summer annual grasses, clovers and native warm season grasses. Beef animals in the Midwest must go through one Winter season and are fed hay, starch free plant protein, and stockpiled pasture grasses for approximately 90 days in mid Winter.
NPC National Figure Competitor
"My training is very intense and my body requires the best protein. This meat tastes so good and digests so easily enabling my body to develop superb tone, color and high energy. Plus, my training clients are seeing the same results!"
-Rodeo Steedle
Are grains fed to chickens and pigs?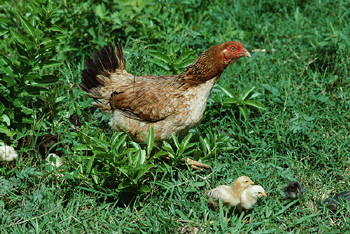 Chickens require grain for growth. The U.S. Wellness chicken cooperator is very active in the South Carolina organic association and produces organic grains on his farm for the chickens. Pasture raised poultry simply means the chickens are raised in an outside environment and allowed to run around with grass under foot.
Being outside on pasture they have access to legumes, grasses and insects which adds zest to their diet and flavor to the meat. Not to mention plenty of exercise that equates to better formed muscles and excellent meat texture.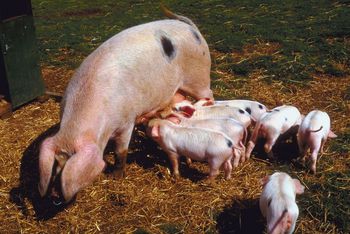 The pigs lead a similar life with feet on dirt every day versus confined to tight quarters in an industrial confined setting on concrete. Hence the USDA "raised humanely certification" has been awarded to the U.S. Wellness pork producers.
Plus, breeds being raised are old line genetics with more natural flavor and do not require pumping the pork to enhance flavor as is commonly practiced in modern pork production. The pigs we are raising do consume grain as their stomachs are the same as humans and unable to effectively digest forage as do the beef, lamb and dairy animals we sell.
What can you tell me about the honey production and history?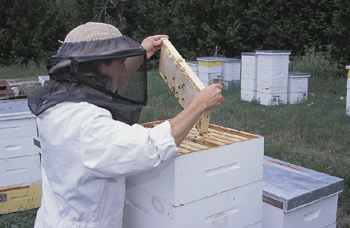 Petit Jean Honey is a family business owned by Ed Martsolf. In 1995, Ed and his family bought an apiary from a couple that decided to move into another chapter in their life. Excited about the new chapter they were starting, the Martsolf family began Petit Jean Honey. Honey sales started by selling honey by the barrel.
Soon it was decided that honey should be sold in smaller quantities. The honey bears and jars were then sold on a self-serve stand outside the Martsolf home. "Take the Honey, and Leave Your Money" is the sign you will read when you visit us on the beautiful Petit Jean Mountain in Central Arkansas.
Petit Jean Honey has grown and developed from selling honey to value-added honey products. With the help of a local savvy businessman and friend, Ed and his daughter, Rachel, started mixing and blending honey and organic flavorings to come up with our popular Flavored Honeys. They have since then taken old family recipes and the ingenious creativity of a culinary friend to create the rest of our current product line.
Petit Jean Honey raises their bees throughout Conway County in Central Arkansas with our hives on neighboring farms along the Arkansas River. The bees mainly feed on clover and wildflower.
*To all our visitors: Thank you for coming to explore our web site, www.chooseCRA.com. We truly appreciate your presence here. You and your health are a vital concern to us. We sincerely hope the information we share, the services we offer and the products we sell help you to manifest your dreams as a spiritual being and that it helps contribute to your physical health, well-being and prosperity.
Please be aware none of the these statements have been evaluated by the Food and Drug Administration (FDA). These products and this information are NOT intended to diagnose, treat, cure, or prevent any disease. It is simply the 1st Amendment in action and is presented for information and research purposes only. We are sharing information we believe in and feel it is not commonly found in mainstream media. We'd also like to remind you, if you act on ideas found here, you do so at your own discretion and risk. Self-help requires intelligence, common sense, and the ability to take responsibility for your own actions. By receiving this information, you agree to hold yourself FULLY responsible for your own health and well being and to hold harmless Alternative Choices Healing Center, its owners, assigns or heirs from any lawsuits and litigations for any reason.
We do not recommend using any ideas found here without first consulting a medical professional or a qualified health care provider with recognized degrees and appropriate licenses.
ęCopyright 2000-2014. All rights reserved. Alternative Choices Healing Center (http://www.choosecra.com) and its owner Dr. Xianti Hoo, Ph.D., call 1-928-639-4574. Web design and writing by Marika Ray. Graphics and some photos are from Art Today, visit www.clipart.com.
Grassland Beef from U.S. Wellness
Now locally available at our location in Camp Verde, AZ
OR..Choose to have delivered to your home..FAST & SAFE
Affordable prices with shipping included
Chicken - Beef - Lamb - Pork - Bison and more.
Their animals are fed right so you can be too!
____________
Former Vegan
U.S. Wellness Meats provides me and my campers with a majority of our protein needs. This diet has given me the essential living nutrients for optimum health after a mid life crisis on a vegan diet. I feel great; lab chemistry is off the chart and living life better than most women half my age.
-- Kieba (Dawn Blacklidge) Pahoa, on the Big Island, Hawaii